Acclaimed channel and author Roland Comtois has spent a lifetime channeling life-altering spiritual messages to people of all faiths. Now he has channeled his heavenly energy into his new book, And Then There Was Heaven: A Journey of Hope and Love, first by recording his life's story and the incredible experiences of love and healing he shared with the people he met along his journey, then by personally blessing the books as they were being printed.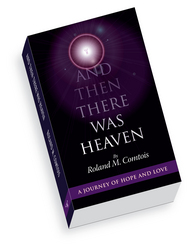 Stamford, CT ( PRWEB ) June 12, 2009 — Like many authors who have published their autobiographies, Roland Comtois put his heart and soul into his new book, And Then There Was Heaven. But then he went one step further by personally channeling spiritual energy and blessings into the book while it was on press. This was all part of a journey he started more than 16 years ago, explained Roland, who said that the book represents the culmination of his lifelong mission to share his knowing that "no love is ever lost and that heaven is everywhere, in everything, at every moment, around every corner and in every gaze."
An internationally acclaimed speaker and channel, Roland wrote the book "to share the extraordinary messages and stories that have touched and opened my heart to a greater understanding that we are truly not alone." The messages, he says, are there for everyone, and are designed to help foster the belief that the light, the love, the energy of a person's essence, continues after the demise of the physical body. "And Then There Was Heaven: A Journey of Hope and Love is not just a story about me and my life. It's a story that is so much bigger than you could ever imagine, a story that involves each one of us, joining us together with eternal bonds of love strung together through time, from here to heaven. It's about listening and believing, looking inside and remembering," explains Roland. To help the reader discover the possibilities and power of spiritual communication in their own lives, Roland included two blank pages in the book for the reader to honor their own book of life and to feel the life-altering energy Roland channeled for them. "I believe that if you place your hands upon these sacred blank pages, the words that have been recorded in this book will become a conscious part of your spirit and you will feel the energy and love that are contained within." In 1993, Roland had a vision of the book he has now just published with Chalice Communications. In it, he watched his dream of sharing his messages and stories about heaven with a global audience come true. On May 19, 2009, that vision took on a life of its own when Roland traveled to Printech in Stamford, Connecticut to personally bless the pages of the book as they came off the printing press. Join Roland on an inspiring journey about love, life and heaven that is meant for everyone of all faiths to experience. Let it start here: And Then There Was Heaven Book Blessing .
Click here to order Roland's new Inspirational Book
About Roland Comtois
A sought-after TV and radio personality, channel and best-selling lecturer whose personal appearances and Channeled Messages for the Soul presentations take him all over the United States and Europe, Roland has earned a devoted following among tens of thousands of clients of all ages and from all walks of life who regularly seek his spiritual counsel during readings, holistic healing sessions, special events and group workshops. In addition to producing monthly Internet broadcasts and You Tube programs, Roland has published his first book, And Then There Was Heaven, with Chalice Communications and is currently under contract with a television production company.
Visit www.rolandcomtois.net for more information and a schedule of events. Merlian News Podcast Interview with Roland M. Comtois
In this podcast interview Roland Comtois talks with Merryn Jose about communicating with spirit, channeling, and mediumship. Roland M. Comtois, a Rhode Island native is widely known locally and abroad as a Spiritual Medium and Channel, who channels the world beyond. His "Messages for the Soul" audiences have reached the tens of thousands across the miles. He is the founder of
the "Inspiration" Foundation and "I Believe" publication which goal is to inspire and empower others through love and compasson.
Medium, Roland M. Comtois on YouTube.com!