A Bold, Visual Retelling of the Peaceful Warrior Story
The book Way of the Peaceful Warrior, shared among friends and families, became a multimillion-copy worldwide bestseller, inspiring men and women of all ages. Now author Dan Millman and illustrator Andrew Winegarner meld the peaceful warrior story into the style and dynamism of the graphic novel. This fresh take on Millman's saga of growth and enlightenment includes new scenes and elements not found in either the book or the Peaceful Warrior movie. Here is a story of growing up and waking up – about a young athlete who finds himself on a path less traveled. Haunted by dark dreams and a vague sense that something is missing from his life, Dan wanders into an all-night gas station. There he meets an old man named Socrates, and his world begins to change. Guided by this mysterious old warrior, and drawn to an elusive young woman named Joy, Dan begins an odyssey into realms of light and shadow – a journey that leads him toward a final confrontation that may deliver or destroy him.
Praise for Way of the Peaceful Warrior: "Remarkably wise, provocatively humorous, and hauntingly beautiful." – Dr. Stanley Krippner, coauthor of The Mythic Path and Personal Mythology "[Dan's] search for a higher life purpose may resonate with some young readers. Pen-and-ink artwork is especially effective for action scenes depicting gymnastic competitions as well as a dramatic struggle with the figure that symbolizes Dan's fears." – School Library Journal
For more information or to purchase the book, please click here.
Dan Millman's website: www.peacefulwarrior.com
More from Dan Millman on MerlianNews.com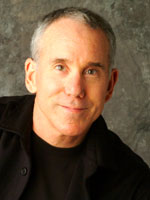 Merlian News Podcasts with Dan Millman
Bridge Between Worlds — Extraordinary Experiences That Changed Lives by Dan Millman and Doug Childers
Way Of The Peaceful Warrior: A Book That Changes Lives by Dan Millman
Wisdom Of The Peaceful Warrior Deck: Inspiration Cards by Dan Millman